The registration and score reporting services on this website will be temporarily unavailable on Tuesday, December 7, 2021, between 7:30 a.m. and 1:00 p.m. eastern time, for system maintenance. We apologize for any inconvenience. Online-proctored exams scheduled during this time will not be affected; however, there may be a brief period where appointments may not be started. If you cannot begin your appointment, please wait a short period and then try again.
About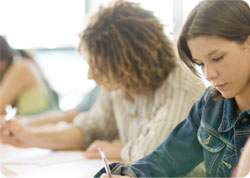 The Foundations of Reading test for New Hampshire assesses proficiency in and depth of understanding of the subject of reading and writing development. The test reflects scientifically based reading research and is aligned with the Common Core State Standards.
Who Needs to Take the Test?
Beginning in winter 2014, teacher candidates in New Hampshire will be able to take the Foundations of Reading test to become HQT in Reading and for certification through Alternative Routes 4 and 5. Beginning on July 1, 2014, those applying for an initial teaching license in the following areas will be required to pass the Foundations of Reading test for New Hampshire:
Early Childhood (N–3)
Elementary Education (K–6)
Elementary Education (K–8)
Reading and Writing Teacher
Reading and Writing Specialist
Test Information
Format
Computer-based test (CBT) and online proctored test; 100 multiple-choice questions, 2 written assignments
Time
Computer-Based Testing
4 hours and 15 minutes total appointment time
15 minutes for CBT tutorial and nondisclosure agreement
4 hours testing time
Online Proctoring
4 hours and 30 minutes total appointment time
15 minutes for tutorial and nondisclosure agreement
2 hours 30 minutes for the multiple-choice questions
15 minutes for optional break
1 hour 30 minutes for the open-response assignments
Breaks
Computer-Based Testing
You may take restroom breaks during testing. Time taken for breaks is considered part of the available testing time.
Dates
Computer-Based Testing
By appointment, year round. Test appointments are available on a first-come, first-served basis.
Check seat availability

.
Test Sites
Computer-Based Testing
CBT sites are located nationwide.
Locate a test center

.
Online Proctoring
You may test remotely, including from home.
Review system and testing environment requirements

.
Score Reporting
Computer-Based Testing
View score report dates
.
Candidates will receive a receipt of completion at the conclusion of their test center appointment.
Notes
This test includes written assignments that may require use of an on-screen character selector for inserting special characters into written responses.
Testing Policies
When you register, you must agree to abide by all testing rules and policies.
Read them now
.
Tests may include test questions that are being evaluated for future administrations and that do not affect a candidate's score.